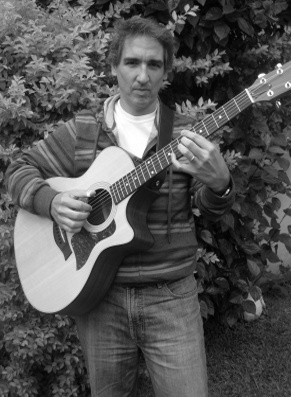 Diego was born in Buenos Aires, Argentina.
His childhood was accompanied by the music his parents listened to at home: Beatles, Stones, Carpenters, Elvis, Sinatra, soul singers.
At the age of 12 he became a big fan of electric bass and followed mainly rock bass players such as Sting (The Police), John Deacon (Queen) and then John Entwistle (The Who).
In those days he began studying and playing bass, and joined garage and high-school bands with friends from his neighborhood La Lucila, in Buenos Aires. Argentine rock was a great source of inspiration at that time.
At 14 he switched to guitar, without abandoning bass at all, this time captivated by rock guitar giants like Eric Clapton and Mark Knopfler from Dire Straits.
On the following years he took music more seriously and started to study harmony and jazz guitar with well-known argentine musicians of that genre. At that time he joined different jazz groups and played many weekends in jazz clubs at Buenos Aires.
Between 1987 and 1993 he also teached guitar to more than 300 students, and also was hired in 2 local musical theatre shows: "Jesus Christ Superstar" and "All that Jazz".
After a long 12 years period in which he hardly played guitar (he studied systems engineering and focused on that occupation), one day he decided to buy a Taylor acoustic guitar after months of listening to a lot of acoustic music: Jethro Tull songs, celtic, irish jigs, medieval, country and bluegrass. And returned to practice guitar like in the old days.
In years 2007/2008 he studied argentine folk guitar with maestro Carlos Martinez, and returned to play live shows backing singer Vanesa Chirkes ; there he could apply the stuff learned with Martinez.
On early 2010 he discovered the huge work of a player that would inspire the years coming: australian guitarist Tommy Emmanuel and also many of his style followers like Joe Robinson and Adam Rafferty, all of them internationally known artists at
youtube.com
.
This fresh influences added to his own personal background helped to develop his own style, that can be listened to in his arrangements, originals and covers.
Since early 2021 he returned back to electric sounds (specially Fender Telecaster clean tones), and continued sharing stuff both electric and acoustic.